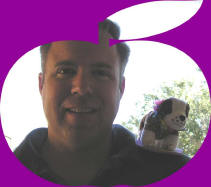 Where is Buster?
Beeville, Texas
Class project with Southwest Airline "Adopt-A-Pilot" and First Baptist Church 4th, 5th, and 6th Grades 2004
---
Report POSTED GEG
February 20, 2004 0237hr PDT
Howdy Kids!
It's been a very long busy day for Buster and I. We started off in Houston today around noon and didn't finish until late tonight in GEG, also known as Spokane, until 1130 PM your time! What a day! All the flights were completely full. We did manage to take a few nice pictures though. On our flight from Sacramento to Seattle it got dark, so we couldn't take anymore pictures. Sorry. We did manage to have a few really nice people take their pictures with Buster though. The pictures attached are named after the people in them:
1. Stephanie is a ticket agent in Houston. She said Beeville ROCKS!
2. Homer is a Transportation Service Agent, he's in charge of inspecting the baggage and passengers before they fly.
3. Krista was one of our flight attendants today. Along with Bill and Pam, they said "Hello Beeville First Baptist!".
4. Betsy is a Customer Service Agent and checks in passengers at the gate. Your notice my flight listed on the board in the background.
Tomorrow morning, Buster and I are going to get up and do some sight seeing around Spokane. We'll take some video and, of course, send back some more pictures. We're thinking about going ice skating, but I'm not too good at it. You all have a wonderful and I'm looking forward to visiting with you again soon.
Mickey & Buster
---