Mrs. Eva Gamez, age 92 entered the Gates of Heaven on December 27, 2005. Mrs., Gamez was born on September 5, 1913 in the Clareville Community to the late Vicente Lopez and Maria Torrez Lopez. She married Ramon Hernandez Gamez on August 12, 1935 in Beeville, they were married for 62 years until his death. Mr. & Mrs. Ramon H.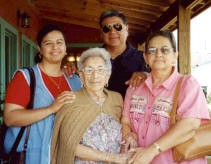 Gamez bought City Cleaners in 1952 and operated the business until Norberto and Gloria Garcia took over and ran the business until 2002, when the doors closed for the last time.
Mrs. Gamez was a member of the Guadalupanas at St. James Catholic Church also a member at Our Lady of Victory Catholic Church.
Survivors include one daughter, Elma Gloria Gamez (Norberto) Garcia of Beeville, one grand daughter Theresa (Terry) Garcia of Sugarland also numerous nieces and nephews.
Mrs. Gamez was preceded in death by one daughter, Theresa Gamez, three sisters, also six brothers.
A rosary will be recited at 7:00p.m. Thursday at Trevino Funeral Home.
Funeral mass will be celebrated at 2:00p.m. Friday at Our Lady of Victory Church with Father Luke officiating. Burial will follow in the Beeville Memorial Park,
Pallbearers will be Vilo Gonzales, Frank Montez, Dickie Lopez, Jose Salvador Lopez, G.R. Trevino, and Juan Gamez.