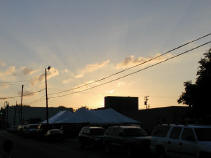 3rd Annual Taste of Beeville
Bee County Family Fall Fest
October 3, 2002
If you have photos of Taste of Beeville, we would like to add them to make the page more complete. Mail@Beeville.Net
I need to apologize to State Bank & Trust (Frito pie & nachos) for not having a photo.
"The best laid plans of mice and men," Ray.
"TASTE OF BEEVILLE" TO START FALL FEST
Bee County Chamber of Commerce/CVB News Release
July 29, 20002
The plans for the Bee County Family Fall Fest are underway and once again the "Taste of Beeville " event will kick things off . The Taste of Beeville will be held at 6:30 p.m. on Thursday, October 3rd at the Beeville Community Center and will once again feature culinary delights from local schools, civic organizations, churches and businesses.
An alcohol free event, the Taste of Beeville will provide entertainment from area school choirs and a decorating contest for the participating booths. First , second, and third place cash prizes will be awarded to the best decorated booths, so all clubs, schools, and businesses are encouraged to put a lot of effort into making their booth the most colorful, as well as the most delicious.
Any group wishing to enter a booth can do so by filling out an application (Application in PDF*) and returning it to the Chamber office. The cost is $15.00 and this provides two tables. All proceeds from the sale of food goes to the participants, but the Chamber of Commerce will sell all drinks. Set up time for the booths will begin at 3:00 p.m.
For more information, interested groups can call the Chamber of Commerce at 358-3267 or Susan Crumrine at 358-1232 or go to:
www.Beeville.Net/FallFest