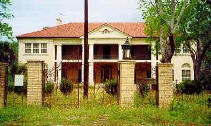 Berclair Mansion
Berclair, Texas
361-358-4480
22 room mansion with all original furnishings. Some antiques dating back to 1600's
Tours of the Berclair Mansion are being conducted on the last Sunday of each month from 2 to 4 pm. Cost is $10.00 per person. All ages.
For large groups, different tours times can be arranged for 20 or more any day of the week.
Tour guides are also needed.
---
Brief Photo Tour 1 2 3 4 5 6Outside
We hope to add some script and maybe rearrange the photos soon.
---
Old picture of Berclair Mansion from TexasEscapes.com