Historical Sites
Beeville and Bee County
32 - ST. JOSEPH'S CATHOLIC CHURCH << Full List >> 34 - THE RAILROAD IN BEE COUNTY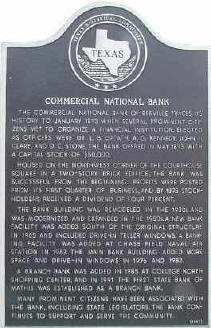 33 - COMMERCIAL NATIONAL BANK OF BEEVILLE
100 5. Washington St., BeeviIIe
The Commercial National Bank of Beeville traces its history to January 1893 when several prominent citizens met to organize a financial institution. Elected as officers were Dr. L. B. Creath, A. G. Kennedy, John I. Clare, and D. C. Stone. The bank opened in May 1893 with a capital stock of $50,000.
Housed on the northwest corner of the courthouse square in a two-story brick edifice, the bank was successful from the beginning. Profits were posted from its first quarter of business, and by 1895 stockholders received a dividend of four percent.
The bank building was remodeled in the 1930s and was modernized and expanded in the 1950s. A new bank facility was added south of the original structure in 1965 and included drive-in teller windows. A banking facility was added at Chase Field Naval Air Station in 1967. The main bank building added more space and drive-in windows in 1976 and 1982.
A branch bank was added in 1985 at College North Shop-ping Center, and in 1991 the First State Bank of Mathis was established as a branch bank.
Many prominent citizens have been associated with the bank, including state legislators. The bank continues to support and serve the community.
See footnote: Beeville's largest bank was purchased by First Prosperity Bancshares in October 1999. The new owners changed the bank's name to First Prosperity Bank. The Beeville bank's Mathis and Goliad branches were included in the sale and have joined First Prosperity's other banks in Angleton, Bay City, Clear Lake, Cuero, East Bernard, Edna, El Campo, Meyer land, Post Oak (Houston), Victoria and West Columbia.
Photos and More