Bee County Site
MAIN PAGE
Bibliography
Cemetery
History
Resources
Local
Beyond
South Texas
Genealogical Society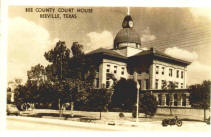 A TeXas Genealogy WebSite
Bee County was Created December 8, 1857, from portions of five existing counties: San Patricio, Goliad, Refugio, Live Oak, and Karnes.
Query Ancestry Board
1860 Bee County Federal Census
MIGRATIONS ACROSS BEE CO TEXAS
Texas Vital Records
Bee County was created by an act of the Texas Legislature on December 8, 1857. Most of the county came from San Patricio County, but also included portions of Refugio, Goliad, Karnes and Live Oak Counties. The new county was named for Colonel Bernard E. Bee, Sr., father of the then Speaker of the House. The first townsite was called Marysville, in honor of Mary Hefferman. There was dissatisfaction with the location of the townsite. An election was held, and an offer of 200 acres by Mrs. Ann (Carroll) Burke was accepted. The site for the county seat was removed from the Medio to its present location on the Poesta creek, a branch of the Aransas River. The legislature would not accept Marysville as the name of the town, and in 1860 the name was changed to Beeville.